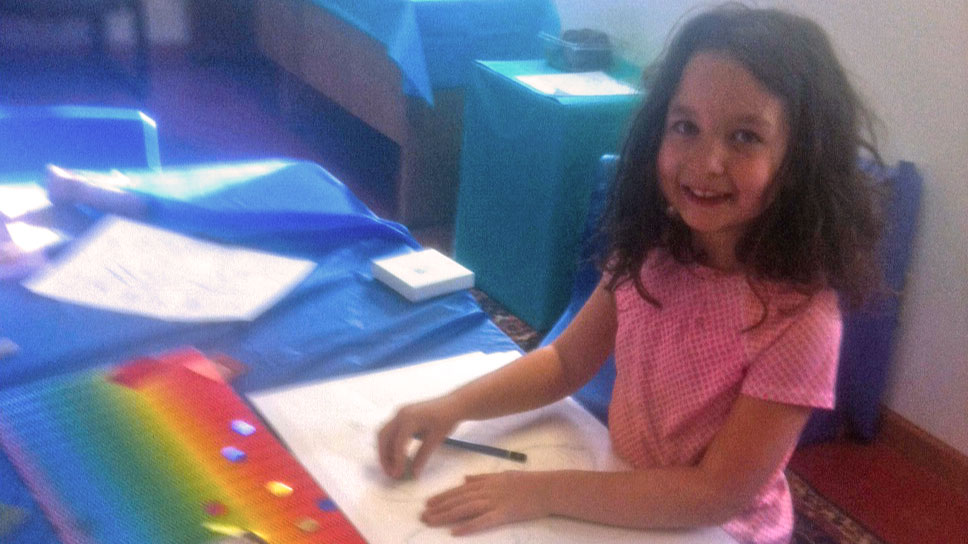 CHILDREN'S ART SCHOOL
b
JOY OF ART
The Children's Art School is celebrating fourteen years of creating in depth art education for interested and talented young artists. JOY OF ART classes, family series and outreach programs give tools to express ideas, nurture creative thinking and promote aesthetic literacy. The world of nature and master artists are our inspiration.
Children's Art School JOY OF ART summer weeklong
classes start in June through July.

SKETCHBOOKS Young artists will celebrate summer
with sketching trips to gardens and parks. Learn new ways to use colored pencils to master quick sketches and finishef drawings. Design your own sketchbook. Find out why sketches are every artist's tool. Explore Master Artist John Constable's sketchbooks for drawing discoveries treasures.
ages ages 8+ times 9:00 am to 12:00 pm fee $200
dates June 26 to June 30

MY PAINTING Discover how to paint your
own portrait with my favorite things in acrylics on
canvas. Young artists will learn to use brushstrokes, palette knives, mix colors and plan compositions to fill a space beautifully. Visit our gallery of
great artists' portraits with wild creatures, a funny hat and even an angel's hallo.
ages 8+ times 1:00 pm to 4:00 pm fee $210
dates June 26 to June 30
CLAY CASTLES Let your imagination soar to construct
a fantasy castle with high turrets. Master hand building of slabs and coils to create a castle manner with a cast of knights, fair princesses and even a dragon. Learn about medieval life from tapestry stories and a Duke's calendar as you design a magical panorama of castles and kings.
ages 7+ time 9:00 am to 12:00 pm fee $200
dates July 10 to July 14

PRESS PRINT SURPRISE To print is to make an impression. Explore the ways to print from etchings, collages to monotypes. Learn how to pull a print and why it is always a surprise. Use a Printing Press to create your own cards and posters. Find out how amazing prints are everywhere and tell stories.

ages 7+ times 1:00 pm to 4:00 pm fee $200
dates July 10 to July 14
WONDERFUL WATERCOLORS Explore Wonderful watercolors that flow with a life of their own. Young artists will learn how to pull a wash of rainbow colors with brushstroke tricks. Make your own watercolor paper and learn why it is a color. Master Artist Winslow Homer's paintings of adventure ships and children's games will guide our adventures. ages
ages 8+ times 9:00 am to 12:00 pm fee $200
dates July 24 to July 28
LIGHT FANTASTIC Young artists will create with Light Fantastic to surround with amazing colors and shapes. We will explore the universe with starlight magic wands, lear how light can tell stories in sunlight windows and design glasses to see the world in arcs of color. Experiments will show surprising ways to bend and reflect light. Our explorations will include modern artists who create with Light Fantastic.
ages 8+ times 1:00 pm to 4:00 pm fee $200
dates July 24 to July 28
ART CASTLES is a curriculum of essential skills and knowledge developed by the Children's Art School. It opens the gates of mastery for the young artist with building blocks to construct a tower of skills in drawing, painting and sculpture. Individualized instruction and projects are developed with the goal of encouraging confidence to express creative ideas and developing artistic literacy.
Art Castles are offered Wednesdays afternoons during the school year and as an Outreach orVirtual Classes for Homeschoolers and Private Schools.
discover art that explores the world and lets the imagination soar

The Children's Art School was established with the belief that creating art is essential to every child's cognitive and personal development. We have originated a way of teaching art based on how children learn and the role art plays in developmental stages. Our classes are small to encourage individualized discovery learning and exploration. The Children's Art School is a DPS Community Resources arts organization and has been featured in Colorado Art Educators Association's, Collage.
Children's Art School presents our Family Art projects for the Cherry Creek Arts Festival's Creative Station Artivity Avenue. The Children's Art School is looking forward to Summer Art Smart Camps of creative discovery.
The Children's Art School's JOY OF ART classes in drawing, printing and painting explore how to use art materials to enable young artists to find their own creative voices to share with the world.
JOY OF ART Registration is by phone or email. For more information or a complete brochure, contact
303 369-7956 or hello@
artcreates.org.
We look forward to your family being part of the Winter and Summer Programs~


Merci bien ~ Thank You
St. Mary's ACC Parish for hosting our classes and the sunlight classroom www.saintmarysacc.org
Guiry's for discounts and family coupons on great art supplies
www.guirys.com

Children's Art School is located at2290 South Clayton Street,
Denver 80210, in the University Park Neighborhood.